Last days of summer and the beginning of autumn is a perfect time to cook Fresh Tomato Soup. In the middle of the season tomatoes are cheap and beautiful, there is a whole range of tomato species available. Remember to choose only the ripest pieces of your favorite tomatoes. They may be soft and not really best looking, but believe me, they will make delicious soup.
Check also winter version of Polish Tomato Soup with tomato concentrate/ paste. Believe me, it is also delicious:)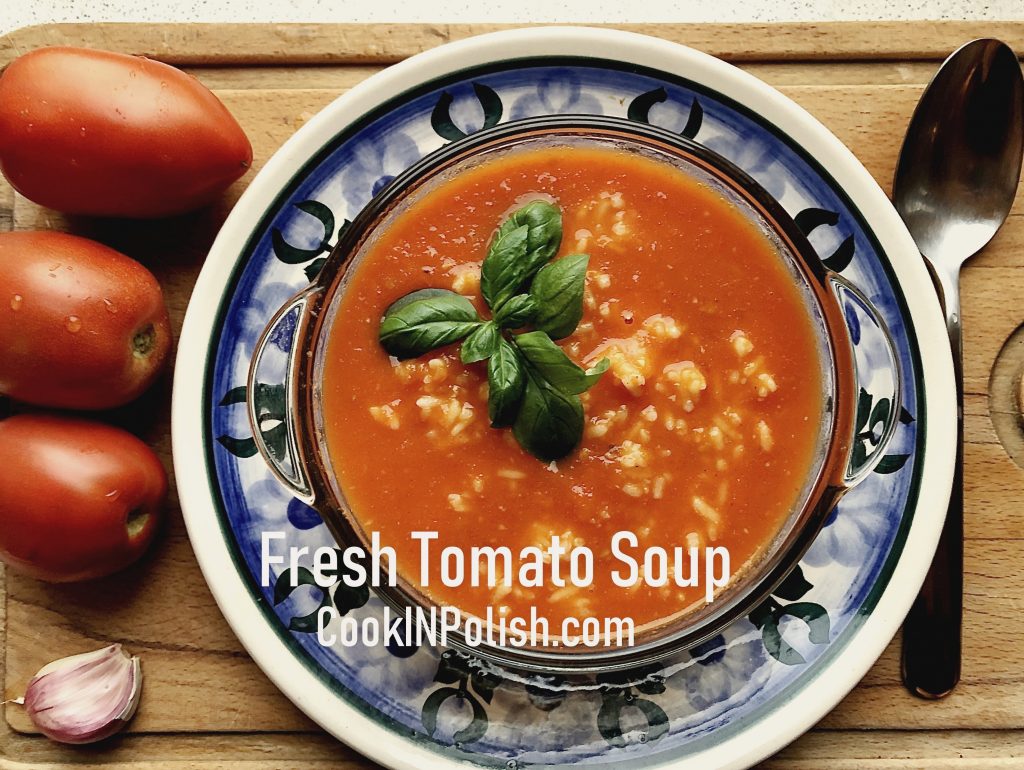 Ingredients:
2-3 chicken legs
1 carrot
1 parsley or parsnip
half leek- a green side
4 balls allspice
2-3 bay leaves
a piece of dried forest mushrooms
1 cloves garlic
2 medium onions
2 tbs butter
6-8 fresh ripe tomatoes/ 2-3 cans of canned tomatoes/ 1 l tomato passata
salt, pepper
1 cup of sweet cream
red paprika, oregano, basil – both fresh and dried
pasta or rice for serving
Prepare chicken stock using chicken legs, carrot, parsley, leek with allspice, bay leaves, dried mushroom and 4 liters of water. After about 1 hour simmer stock should be ready. Sieve a broth to get a clear stock.
Chop onions and garlic.
Peel tomatoes and dice them.
Saute garlic and onion in butter in the pot. Add tomatoes and saute few more minutes. Season with red paprika, dried basil and oregano. Add chicken stock. Bring to boil and simmer for few minutes.
Set aside, add fresh herbs and blend the soup. Put back on fire.
Spread out sweet cream with a cup of soup and pour all to the pot. Bring to boil and turn the fire off.
Fresh Tomato Soup can be served with pasta or with rice, or just with some fresh basil and extra portion of sweet cream.
Tips:
The easiest way to peel tomatoes without wastes is to place tomatoes in boiling water for 30 seconds and then move them to a very cold water. The skin then goes off easily.
You can substitute fresh tomatoes with canned tomatoes with juice or with tomato passata – thick tomato sauce, made 100% of tomatoes.
You can prepare your favorite stock, it may be vegetable stock, which will be perfect for vegetarian!