Pani Steciuk's Paska Recipe
I love cooking according to old recipes, specially I like real recipes of real people. These recipes are passed down from generation to generation and are cherished by the whole families. When these dishes are cooked and eaten, people gather and recollect the old times and recall people who are no longer with them. Last week I found this kind of recipe on one of the Facebook groups gathering Polish food lovers. Tracey shared her Babcia's recipe for Braided Yeast Easter Bread, Pani Staciuk's Paska. I am so happy that she shared with me her memories and also a picture of her Grandma, Maria Steciuk!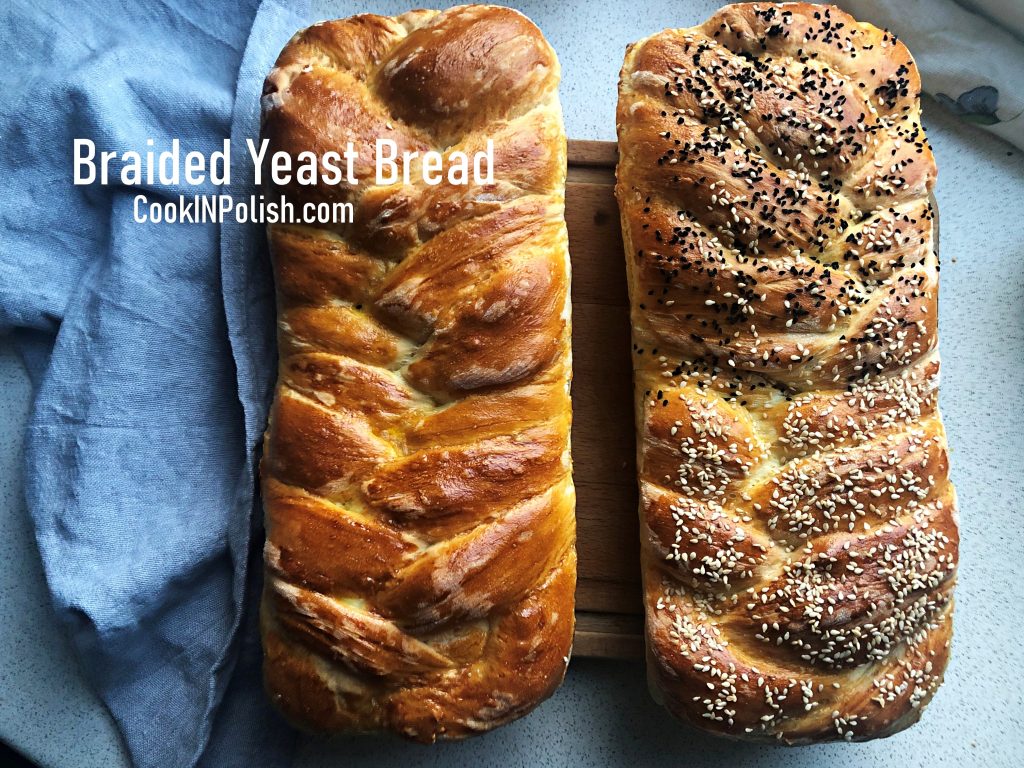 This is Pani Steciuk's story told by her granddaughter Tracey: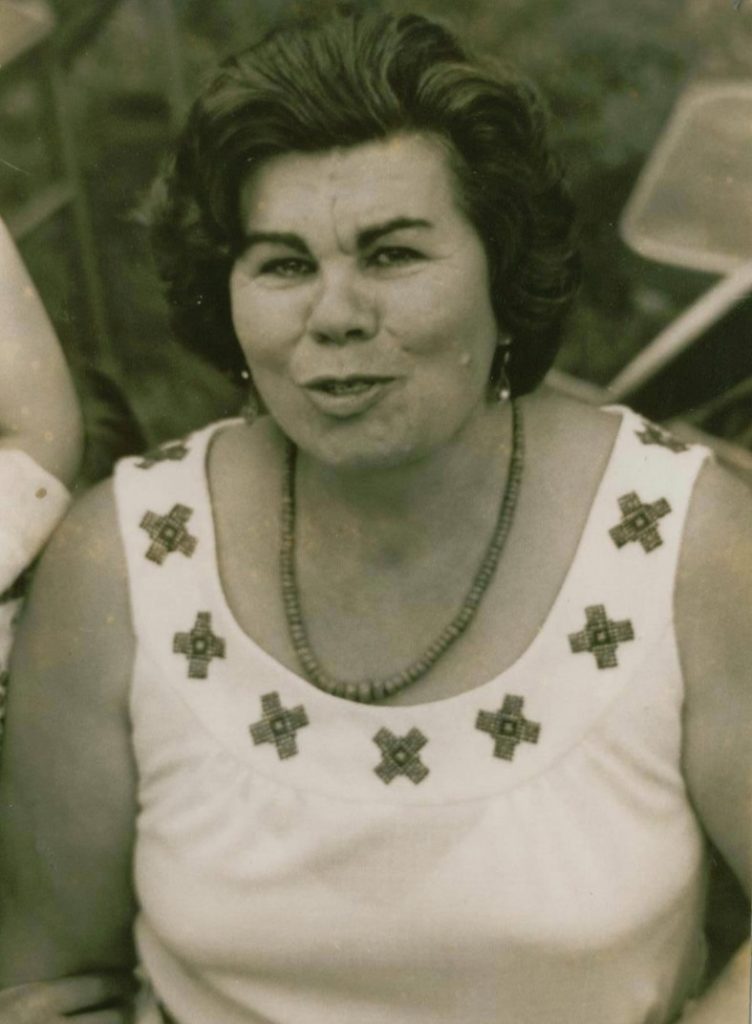 My Babchi was born in Ukraine (Ivano Frankivsk) and married a Lemko that she met in POW (prisoner-of-war) camp in Germany. She spoke Ukrainian, Polish, Russian, German and English.
We lived in a 2 family house in NY and she taught me how to cook and bake all the traditional foods.
She handed down all her aprons to me when she died so that I would carry on all the traditions.

When we found out she was sick (cancer) I spent a month with her writing down all her recipes and making everything. She would say a cup of milk, but meant her coffee cup or troche yeast… I measured everything and saved her recipes so they could live on."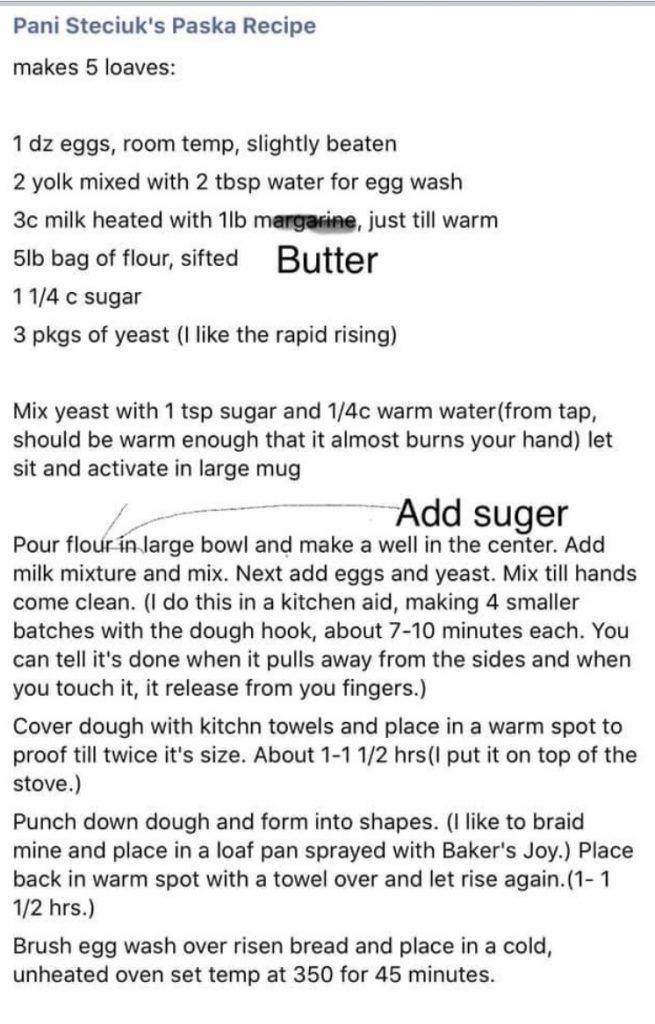 Her original recipe (on the left) is for 5 loaves of bread! Tracey explained:
"She had 4 children plus 5 grandchildren. She also baked for the Church. I bake them every year and give out to my family. Usually we have 22 people over for Easter."
My experience
I decided to make 2 loaves, so I reduced the proportions and made 2 big beautiful sweet, yeasty and rich braided bread.
Me and my family enjoyed sweet and rich yeast bread and soon it was gone:) I love Pani Steciuk's Braided Yeast Easter Bread covered with butter, served with a glass of milk. So yummy!
I hope that thanks to this post readers would think warmly about Pani Steciuk. Thanks so much Tracey for sharing this beautiful family story and I hope to check more of your Babcias's recipes!
I you like this recipe you may also like Pierogi Ruskie made by my friend's Grandma from Włodawa.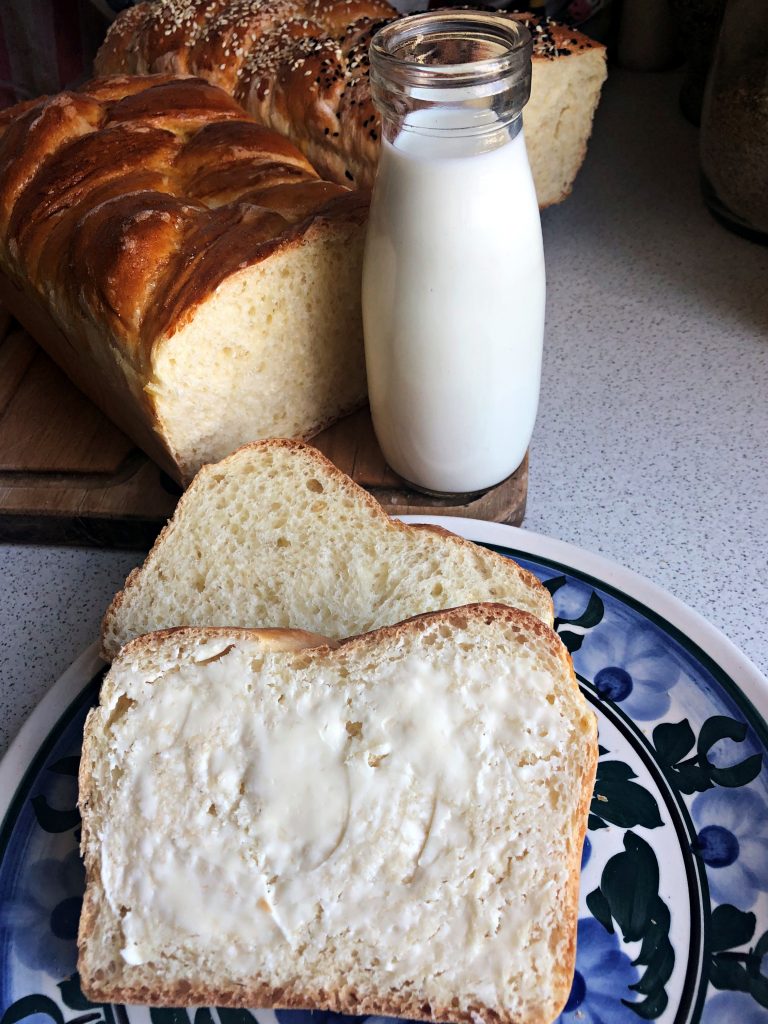 Ingredients (for 2 loaves)
4 eggs, room temperature, slightly beaten
1 egg yolk mixed with 1 tbs water for egg wash
1 cup milk heated with 3 and 1/2 oz butter, just till warm
2 lb flour, sifted
1/2 cup sugar
1 pkg dry active yeast
Mix yeast with 1 ts of sugar and 3 tbs warm tap water. Let sit and activate in large mug.
Pour flour and sugar in large bowl and make well in the center. Add milk mixture and mix. Next add eggs and yeast. Mix till hands come clean. I use kitchen aid with a dough hook. You can tell that it is done when it pulls away from the sides and when you touch it, it releases from your fingers.
Cover dough with kitchen towel and place in a warm spot to proof till twice it's size: for about 1 – 1 1/2 hours.
Punch down dough and form a braid. To form a braid I divide a dough into 2 parts (for two loaves) and then each part for 6 parts again. Roll each part into equal sized 18-inch rope. Braid ropes, pinch ends together. Place in the baking forms covered with baking paper. Mine are 30 cm long and 10 cm wide (12 in long and 4 in wide).
Place back in a warm spot with a towel over and let rise again for 1 – 1 1/2 hours.
Brush egg wash over risen bread. I sprinkle one loaf with sesame and black cumin seeds (optional! you can also use poppy seed or almond flakes). Place in a cold, unheated oven, set temperature at 350 F/ 160 C for 45 minutes.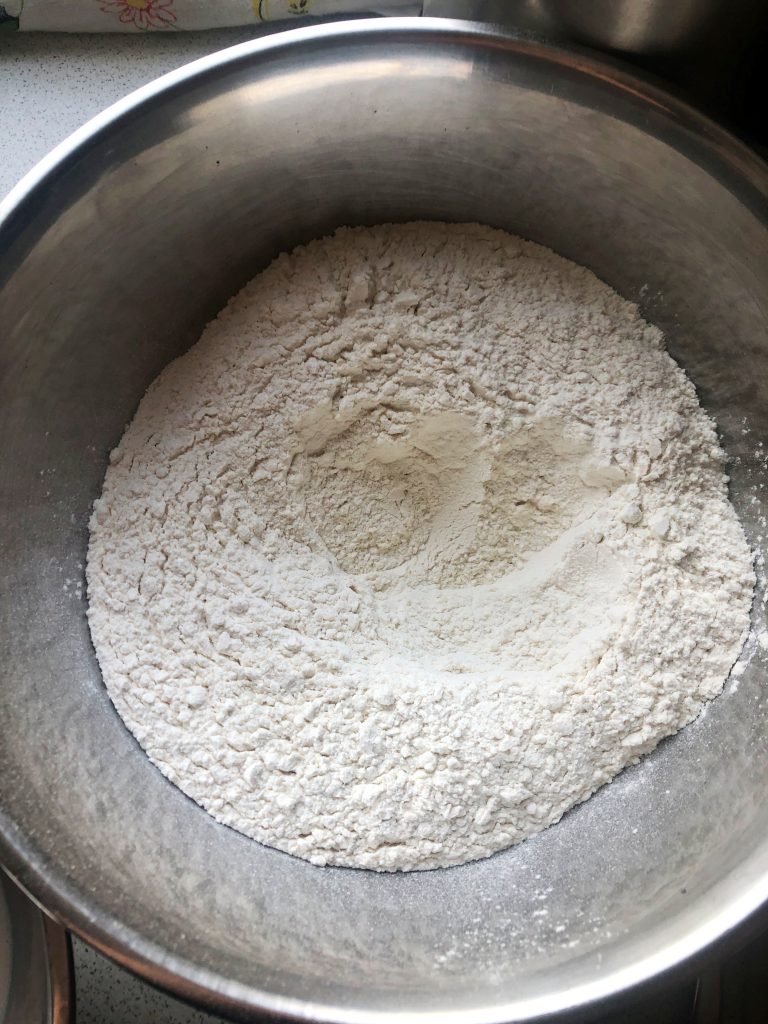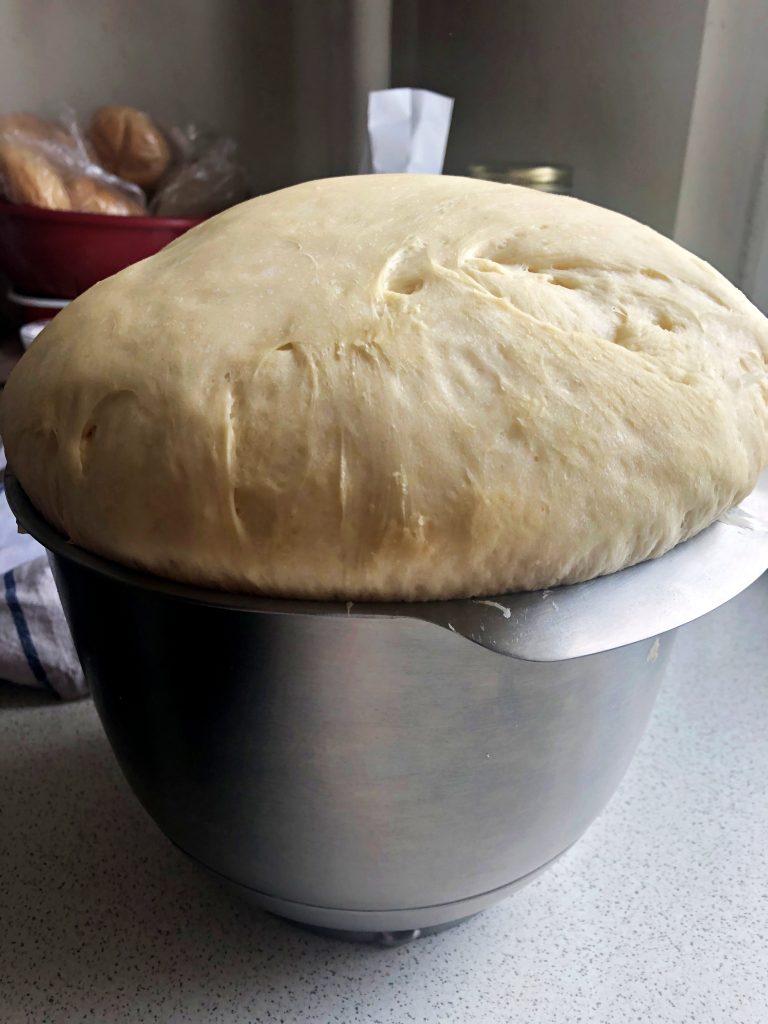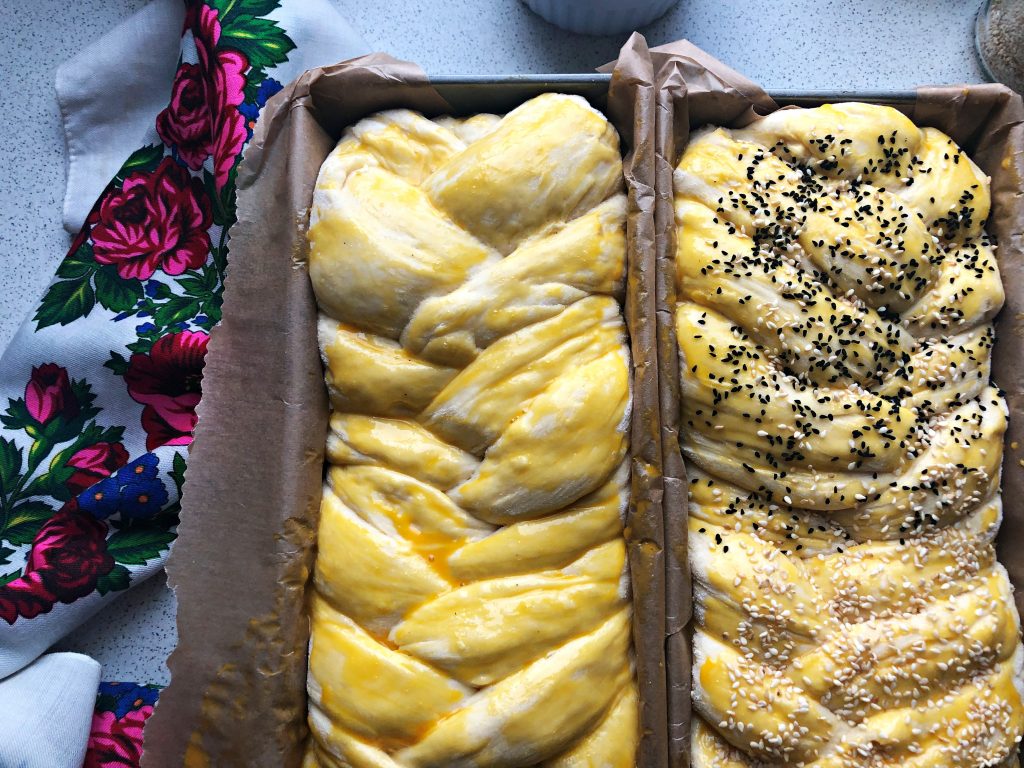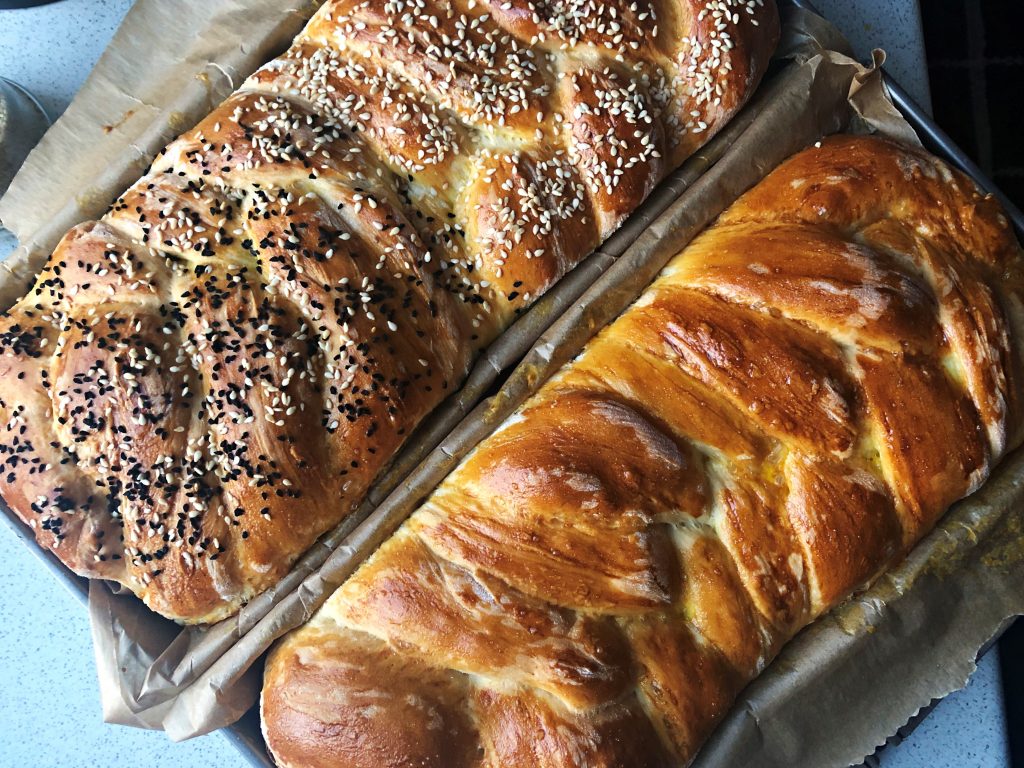 Comment on the post if you have questions, other ideas on the recipe or just enjoyed reading. I would be happy to see your thoughts on my posts!
Thanks for liking and sharing my recipes to your friends – it helps to develop my blog!