Beef Tartare was a very popular appetizer during communistic Poland. It was always served on weddings, first communions, name days and other gatherings. Those days meat was cheap, although not so easy to get. Now meat, specially beef is one of the most expensive here in Poland.
Remember to buy beef from a trustworthy seller, meat needs to be of the best quality and the freshest.
Beef tartare might be a great appetizer on a Valentines dinner, don't you think that raw meat gives a little bit of wildness? 🙂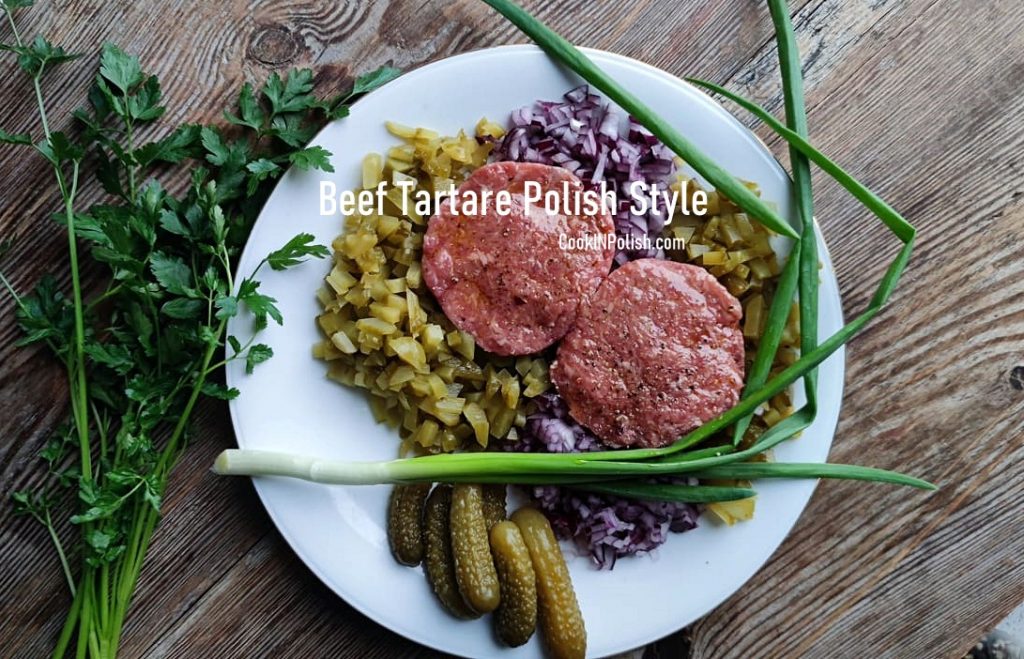 Ingredients
200 g / 0.5 lb good quality fresh beef
2 tablespoons good quality oil (I use raw rapeseed oil)
half cup of cold water
2 teaspoons mustard (I like 'sarepska' brand:))
egg yolk
2 teaspoons lovage (lubczyk) extract*
salt
freshly ground pepper
1 onion (red or white, or a shallot) for serving
few fermented in brine cucumbers (ogórki kiszone) for serving
* lovage extract in Poland has a long history, it is widely known as 'maggi', unfortunately it contains monosodium glutamate, so I don't use it. Lately I saw 'maggi' that was glutamate free, great that at last we had this option. If you don't have access to this liquid spice, you can add some soy sauce. Last year I made my own lovage extract and froze small portions. Next Summer I will make it again and share recipe.
Chop the beef finely. Some people just ground meat. Transfer to the bowl.
Clean an egg. Put it to boiling water for few seconds for disinfection. separate egg yolk from egg white. (Use up egg white in scramble eggs;) )
Add water in and knead the meat for few minutes with your hand, it'd become delicate and soft. Add egg yolk, oil, mustard, lovage extract, salt and freshly ground pepper. Combine all well. Check the taste, add salt or lovage extract if necessary. Divide meat into 2 portions, form rounds and place on the serving plate.
Skin onion and dice finely. Dice finely fermented cucumbers. Assemble on the plate around meat.
Options:
Some people place egg yolk on the meat surface instead of mixing it in.
You can add pickled porcini for serving (grzybki marynowane w occie)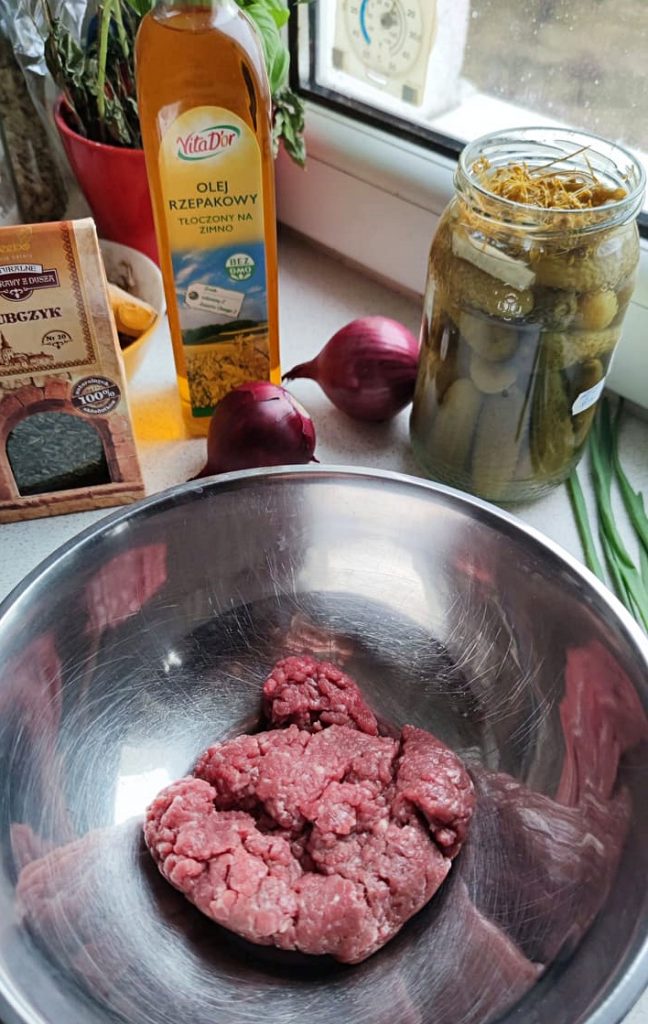 Comment on the post if you have questions, other ideas on the recipe or just enjoyed reading. I would be happy to see your thoughts on my posts!
Thanks for liking and sharing my recipes to your friends – it helps to develop my blog!